Can You Deny Vacation Requests?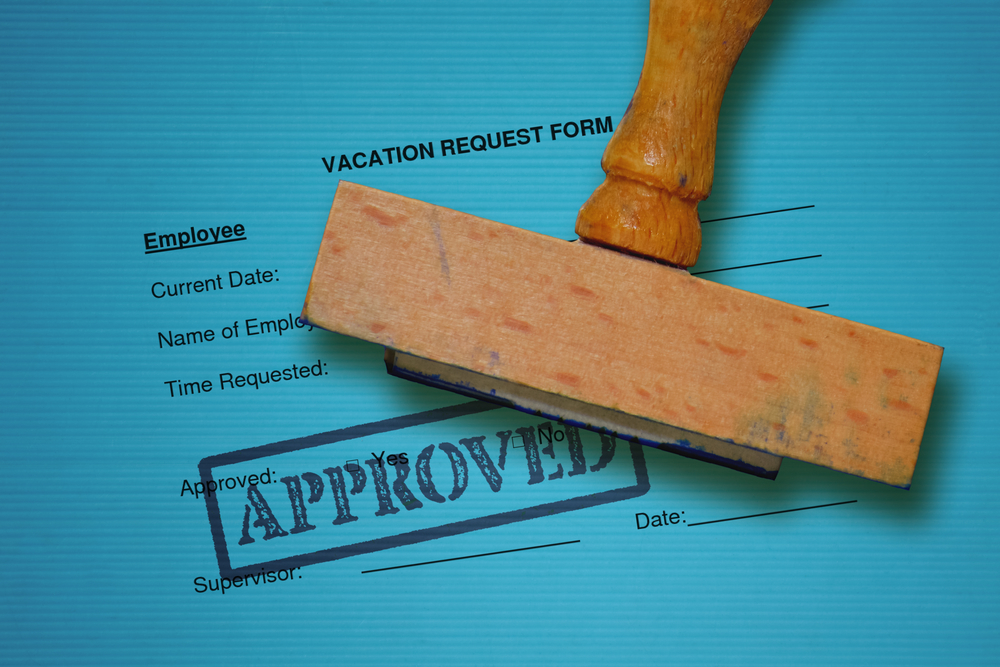 Most employees dream about when they can get their toes in the sand or hit the slopes. When vacation leave requests begin rolling in, it can be overwhelming, especially when you're not sure, as the employer, when it comes to granting your employees their time off.
So, on the most basic level, there is currently no federal or state law that says that employers even have to offer paid vacation to their employees. However, it should be noted that less than 10 percent of companies have omitted this fairly routine perk from their benefits list – and we'd be inclined to believe that ditching the vacation leave altogether would be a tough sell when attempting to woo a prospective employee.
For part-time employees, however, getting paid leave truly is a perk; only about one-third of employers offer this benefit to their non-full-time staff.
Now that we've established that most companies offer vacation time, let's talk about how companies handle the inundation of requests. Once again, there's very little legal oversight of this process.
Employers are welcome to determine not only how vacation time accrues, but also how and when it is spent, provided their policies don't discriminate based on "a legally protected category," such as discriminating based on age, religion, gender or race. With this in mind, companies are mostly free to set their own policies. Some companies may prohibit their employees from taking paid time off during peak workload times (i.e. a tax accountant is going to have a hard time taking his honeymoon in April), some might require an employee to be on staff for a pre-determined period before they are eligible for time off, and still others might limit how many days in a row folks can take off at a time.
But how should HR or even individual managers handle requests? As a manager, you need to decide whether your employees must plan their vacations a certain amount of time in advance, such as 90 days, or you will grant holiday requests in the order in which they were received.
You may opt to set limits for how many people in a select department – or who share a similar job function across departments – are able to take off at once. For example, if you have two executive assistants who not only understand the needs of their bosses but also the day-to-day operations of the broader business, it is ostensible that they could trade off their vacations and cover for each other to be minimally disruptive to their respective bosses.
Setting these policies is, of course, all well and good until you have to say no to that employee who is begging for a week off during a time that simply won't work.
The best approach here is to be straightforward. Meet face to face with the employee and explain why you are unable to accommodate their vacation request, referencing the policies that are already in place with the company. It is likely that your employee will be upset, so where possible, see if the two of you can reach a compromise. Is there a project deadline that could be shifted to help accommodate the request? Could the employee perhaps take off just a portion of the work week instead of the whole week? At times, there won't be a way to appease both sides, but trying to reach a compromise is always preferable to simply shutting them down.
However you decide to implement a vacation policy, the best way to eliminate confusion among your employees of who can take time off when is to have your policies and procedures outlined in your company handbook.
Be sure that all underlying vacation policies and rules are carefully outlined in your employee handbook and have been included in your contracts with employees. As noted above, you are generally free to craft a vacation policy the meets the needs of your company in terms of how many employees can take off at once, how many consecutive days folks can take off, dates when employees cannot take off, and other important factors.
Ensure that it applies to all employees – or all employees within a certain pay grade, job type or level of seniority. In doing this, you can not only manage employees expectations about time-off but also protect yourself from a frivolous lawsuit should someone really lash out for not getting to go on the cruise of a lifetime.
Abel HR's team of experts can help you craft vacation best practices that are fair and applicable to your entire company. Ask us now (800) 400-1968 or info@abelhr.com.