Communicating While Wearing a Mask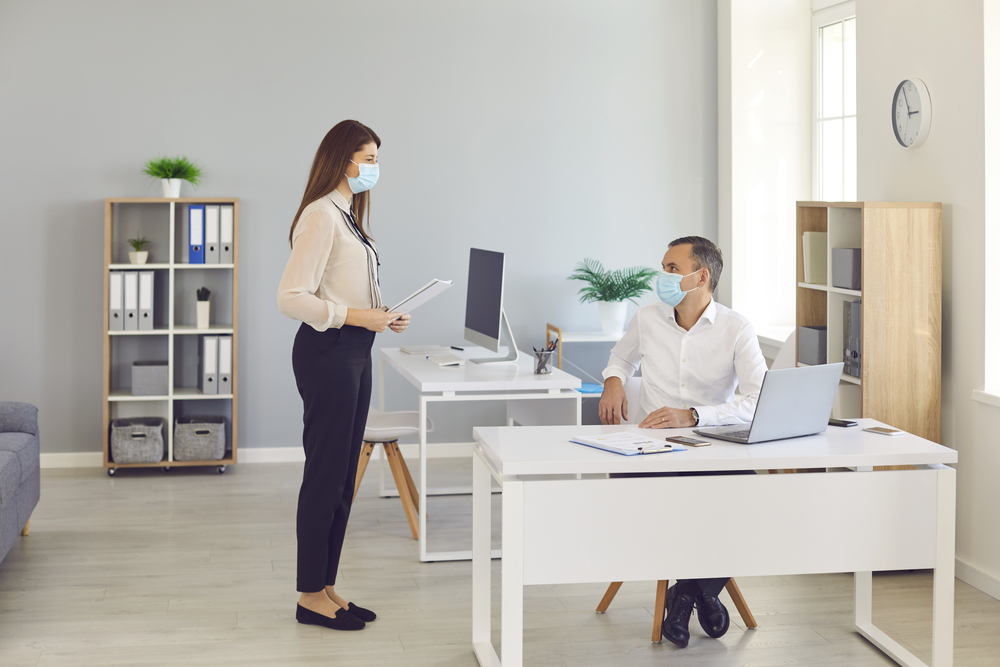 While we appreciate the sound logic behind wearing a mask – in that it is effective at stopping the spread of Covid-19 and the usual seasonal viruses – there's no denying that it does make communicating a tad more tricky. Since these masks aren't going away anytime soon, we wanted to offer a few tips for making sure your message isn't masked and can be heard loud and clear!  
Alter your annunciation
Wearing a mask muffles sound, so be sure that you are annunciating clearly, meaning that you are accentuating the right parts of each word so that you can be heard clearly, even through the cloth barrier. You may also need to alter the cadence (speed) of your speech so that you are speaking slightly slower so that you can better be heard. 
Turn up the volume
Following on from the idea of annunciating, we also recommend that you turn up the volume. This is especially important given that we're no longer crowding into conference rooms and are trying to observe social distance. We are not advocating that you begin yelling, but instead just putting a little more oomph behind your regular speaking voice. 
Best face forward
Wearing a mask conceals the lower part of your face, so it may be hard for folks to read emotion on your face. As such, you should do your best to maintain eye contact and nod your head to show encouragement.  
Hands off
Similar to using your eyes and head nods to show encouragement, you may also find it necessary to otherwise employ more body language cues to help steer conversations. Turning your body to the person speaking shows attentiveness, while using your hands to signal or gesture can help you emphasize points. 
Talk back
Failing to hear people clearly can result in outcomes both hilarious and harrowing! If you can barely believe the words that came out of someone's mouth, go back to basics and either ask them to repeat what they said or use a back-to-basics clarifying statement such as "what I'm hearing is…" or "so you're saying…" to make sure that you are understanding what they are trying to say. It is better to get it wrong and make the correction in the moment than to miss something crucial. 
Location! Location! Location!
Even with all these precautions in place, it can still be hard to communicate while wearing a mask. Help your voice to go the distance by selecting a setting where there isn't a ton of background noise. Where you might have been able to swing by and chat in someone's cubicle in the past, now you might need to plan to find an empty office away from the ambient noise of the workplace to optimize communication. 

Finally, we wanted to share a few tips for making mask wearing a little easier on your staff: 
If the budget is there, consider splashing out on comfortable masks that your staff can wear in office. You can even get them stamped with your company logo so that folks look professional and are promoting your business while they interact with customers. 
Mask causing your glasses to fog? Have your four-eyed friends wash their glasses with dish soap and water, then put their masks on. The soap helps cut down on the steam and helps keep glasses clearer for longer. Also helpful is wearing a mask with an adjustable nose bridge and place your glasses over the mask (as opposed to next to wear the mask meets your face).
Touching your mask constantly can lead to cross contamination, so as much as possible, make sure that you limit the amount of times that you touch your mask. Similarly, when your mask is off to eat, make sure you are storing it somewhere clean (such as a pocket, as opposed to out on a table or desk).