Does all This Stuff Need to be in the Employee Handbook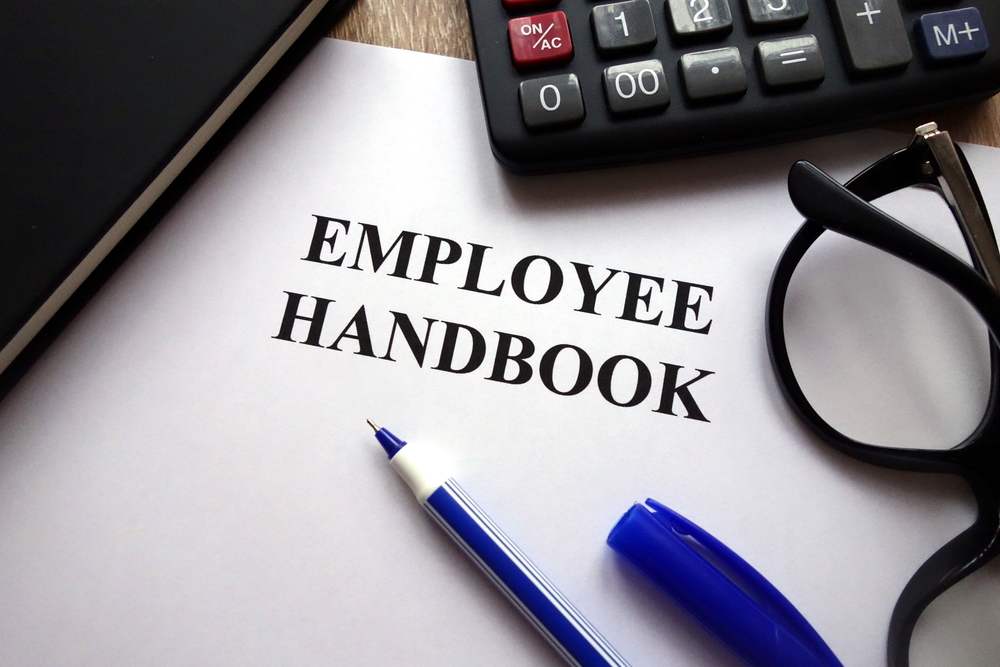 If you've been reading our blogs for a while, then you know we love a good ol' fashioned employee handbook. Here at Abel, we have a whole team dedicated to crafting the perfect handbook for your company. A handbook that includes all the legally required information, but that is also perfectly personalized to reflect the unique needs of your company. In fact, when crafting these books, one question we almost always get is "do we really need to include all of this information?" and generally the answer is "yes."

We include all of this information because it is required either on a federal or state level and can even be required by your industry. The employee handbook essentially documents a promise of what you will do for your employees and what you expect them to do for you. Putting it in print protects you in the event of a legal altercation, which can save you time and money down the line.
Below, we outline the main topics your employee handbook should cover:

Legally required information:
By law, you are required to include an overview of family medical leave policies (i.e. your FMLA eligibility), equal employment/non-discrimination policies, workers compensation policies, policies for military leave, policies on breast-feeding accommodation (if not dictated by your state), and other various leave policies. In addition, if there are state specific laws that apply to your business or the work conducted by employees, these must be included here too.

Company specific information:
The handbook is the perfect place to include information about the history of your company, the mission statement, and even a brief overview of its structure and various departments. While not required, it helps to set the tone for the document and serve as a reference for employees trying to understand how their job fits into the broader business.
Job classifications:
Your handbook should also include information on how employees are classified (exempt, non-exempt, part time, contracted, etc). This section can also include an overview of hourly work requirements. This is also a great spot to include information on how paychecks are received (by mail, direct deposit, etc), schedule of pay periods and how they can access information on hours worked, etc. Logically, this is also the spot to post information on your paid time off program (including how PTO is accrued and can be spent), a holiday calendar of company-wide and optional vacation days, and any salary differentials for non-traditional work hours.
Benefits information:
Once you've talked about compensation, you'll also want to let your employees know about the other perks in their package. Here, you should put information on your various benefits offerings, including health, dental and life insurance coverage. You'll also want to describe who is eligible for benefits, what they need to do to enroll, and under what terms they can make changes to their coverage plans.

Health and safety:
Maintaining a safe and healthy work environment isn't just a nice thing to do, it's the law! It's important to include in your manual section profiling what your company does to maintain a safe working environment, including how the business stays compliant with Occupational Safety and Health Administration (OSHA) laws. In addition, the handbook is a great spot to add information on what to do in the event of a workplace safety incident, including how to report an accident and what the process entails. This is also the spot to include your inclement weather policy as that is also part of maintaining a safe work environment.
Employee expectations:
When you hire an employee, you rarely anticipate that you'll need to tell them how to behave at the office. However, the reality is that there's always someone that ruins it for everyone! While it feels jokey, outlining your expectations for employee conduct – such as anti-harassment and bullying rules, substance abuse screening and policies, dress code, technology usage, proprietary information rules, and even smoking bans. This also logically becomes the spot where you can discuss how conflict should be reported and the company's preferred method for resolution, don't be afraid to keep this general as saying anything concrete can come back to bite you. Further, you'll want to use this section to also cover "meat and potatoes" policies, such as attendance requirements, non-disclosure agreements and expectations for the resignation process.
The fine print:
Beyond the obvious, you need to state how the employee handbook should be used! Your handbook must explicitly state that it is not a contract, that it trumps any other previous policy documents or communications but are subject to change, and that receipt of the handbook must be acknowledged. Having a signature proves that your employee understands and will abide by the company policies described. As you can see, crafting an employee manual is not an easy task and it's a document that must be completed with the utmost care and research. It needs to be compliant with current federal and state employment laws, cover all the "big ticket items" in terms of various discrimination policies and conduct rules, and generally be a document that should be able to stand up to incrimination in court proceedings should the need arise. With this in mind, we highly recommend that you work with a trusted partner, such as the team at Abel HR, to craft your employee handbook, or at the very least have a lawyer review your work before you hit print.