Five Employee Handbook Offenses to Lookout for This Year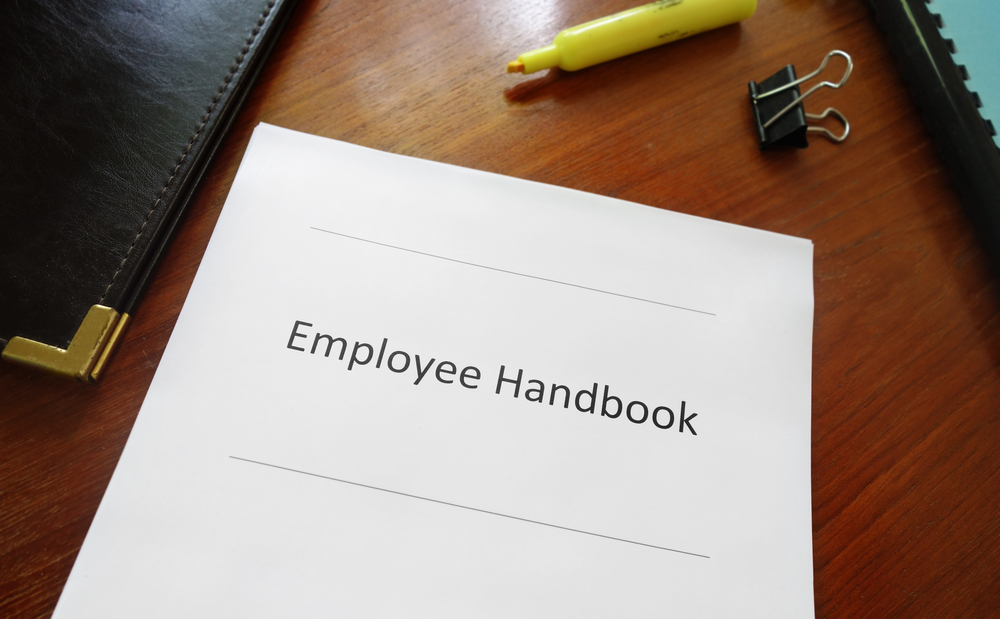 With all the recent reforms in workplace laws at both the federal and state levels, now seems as good a time as any to begin reviewing your own employee handbook with a critical eye and making changes to make sure that what is inside reflects the current business climate.
In particular, SHRM suggests that companies pay particular attention to state and local laws on leave entitlement, background checks and wage and hourly working rules. Emerging areas of interest may also include regulations governing the presence of firearms in the workplace, as well as evolving marijuana rules as more states take steps to legalize the drug for therapeutic indications.
Below, SHRM also outlines five emerging issues employers should watch carefully and, should big decisions be made, amend their handbooks accordingly.
Workplace Protections
Under the previous administration, the National Labor Relations Board (NLRB) took aim at social media and other workplace conduct standards "that could have limited workers' right to engage in a protected concerted activity," according to SHRM. However, when Peter Robb, the board's new general counsel, came into office, he quickly took steps to rescind prior memos that led to the closer scrutiny of handbook and policy provisions. This included striking down provisions that could be "reasonably construed" to curb employee discussions about wages and working conditions, even if that wasn't the intention. "With [the] signal of a sea change in NLRB policy, employers need to pay close attention to the board's new 'policies on policies' as they develop," remarks Bonnie Martin, an attorney with Ogletree Deakins in Indianapolis.
Arbitration Agreements:
According to SHRM, there are a number of federal lawsuits pending that could significantly alter the way that arbitration agreements and class action waivers are considered and enforced. With this in mind, employee handbooks will need to be updated to reflect these changes as and when they occur. However, experts warn that there is truly no sense in calling for an update until the dust settles on these cases and those in the know can ultimately figure out what – and how – the book should be rewritten to best reflect the changes.
Sexual Harassment:
Unless you've been living under a rock – or are Harvey Weinstein himself – you've probably heard of the "me too" movement, which has entered the limelight (despite being launched in 2006) as a way to call attention to survivors of sexual abuse and provide support and pathways to justice for these individuals (and we say individuals because this isn't just about women – men can certainly be survivors of sexual violence too).
With the increased focus on sexual harassment, now is the right time to take a look at your company's anti-harassment policies and procedures to make sure that they are up to par. Specifically, Randi Kochman, an attorney with Cole Schotz, notes that "policies need to adequately tell employees how to register a complaint, and they need to give workers multiple outlets for complaining." Further, several states – and counting – have implemented their own requirements for sexual harassment, including California, which has expanded their current supervisor training requirements and Maine, which amended its sexual harassment training laws to require employers in the state with 15 or more employees to use a compliance checklist provided by the state's Department of Labor to develop a sexual harassment training program, among other requirements.
Parental leave:
Much work was done in 2017 in terms of providing parents with better access to leave for various life events, including the birth or adoption of a child. In California, for example, large companies already provided parental leave under the federal Family and Medical Leave Act (FMLA) and the California Family Rights Act, but starting in 2018, the state began requiring companies with between 20 and 49 workers to offer the same benefits. In addition, the state increased state paid family leave insurance benefits to help further ease the burden. Not to be left out, New York also made significant strides in 2017 to expand parental leave allowances, and additional states are expected to follow suit in the coming months. Commenting on the trend, Randi Kochman notes that being equitable to mothers and fathers is a huge component of the shift. Therefore, while employers can have separate standards for mothers during the time they are considered "disabled by pregnancy," parental leave policies should use terms like "primary caretaker" and "secondary caretaker" in lieu of mother or father. Further, when providing an update to your handbook, make sure that they adhere to FMLA guidelines, as well as any individual state requirements, many of which vary based on company size.
Medical Marijuana:
The topic of medical marijuana was front of mind in 2017, with several states legalizing therapeutic access to the drug and others taking steps to otherwise decriminalize the drug. Of note for HR professionals, several courts ruled last year that registered medical marijuana users who were let go from their jobs – or simply not considered for a new position – because of their medicinal use of the drug could bring claims under state disability laws. With this in mind, Cheryl Orr and Irene Rizzi, attorneys with Drinker Biddle, note that "HR professionals should review their drug-testing policies and practices and consider consulting counsel before taking any adverse action following a positive drug test for marijuana in a state in which medical or recreational use is legal."
One other change that needs to be considered is that with states increasingly implementing their own rules, companies that operate in several different states may no longer be able to use one handbook to cover all their bases. Instead, these companies can consider adding state-specific supplements to their handbooks so that employees don't have to wade through pages of irrelevant – and often confusing – rules to get to those that are relevant to them.
While this may seem overwhelming, help is at hand! Our folks here at Abel HR are fully qualified to help write and compile your employee handbook to include the most up-to-date and relevant rules for your company, while also staying in compliance with state and federal laws. To learn more about this service, contact Abel HR at (800) 400-1968 or email info@abelhr.com