Four Tips to Boost Employee Morale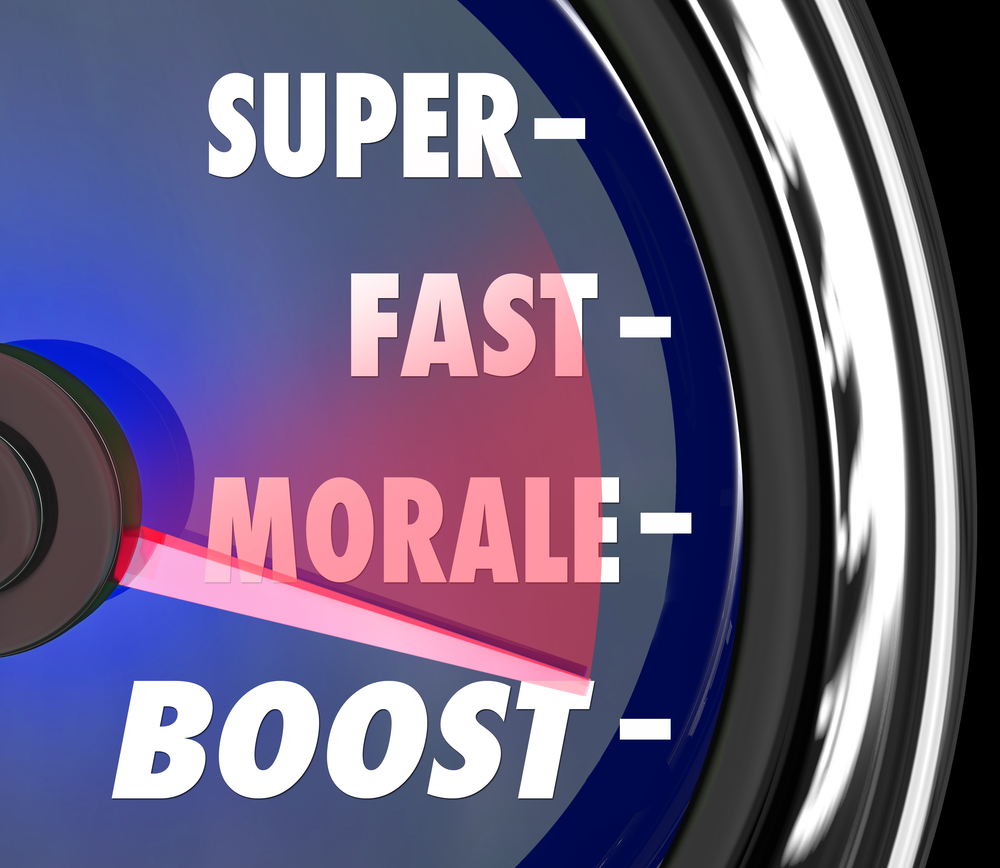 We all know that when employees are disengaged, no one wins, least of all the company. Now Gallup has put some numbers behind the cost of disengaged employees. An estimated 22 million employees are disengaged, leading to $350 billion in lost productivity, including employee absenteeism.
Beyond the figures, March is Employee Spirit Month (we know, we know… there's quite literally a month for everything these days), and human resources are often charged with improving morale. Here are four strategies designed to engage and motivate your workers.
Recognize good work:
Part of being a good team leader includes recognizing when members of your team perform well in their roles. Failure to heap on the praise for a workplace accomplishment is one of the fastest ways to make employees feel undervalued and thus really tank morale. To recognize achievements appropriately, be uniform in your approach—so everyone gets praised for winning a contract, regardless of size—congratulate the employee personally, and acknowledge their contribution publicly to not only let their coworkers know and enforce that hard work is truly valued.
A second approach is to set up a scheduled way to recognize employees monthly, quarterly or yearly. Prizes can include monetary awards, or perhaps bonus days off or other sought-after perks in your company. They could be presented to those who exceed their goals, provide outstanding ideas for process improvements, or otherwise go above and beyond in their day-to-day duties.
Give them a boost:
The easiest way to let employees know that you see their potential is to provide them with opportunities to broaden their horizons. Professional development opportunities can include everything from attending a conference and participating in webinars, all the way through to offering them specialized training or the opportunity to try out "stretch roles," defined as those that are outside of the traditional purview of their job but are of interest to the employee and their future career growth. Professional development opportunities "send a powerful message that you believe in their potential [and] can position your employees for internal promotional opportunities," according to Alicia Moustoukas, writing for the recruiting website Your Career Intel.
Boost the mood:
It would be unrealistic to believe that your employees should show up to work each day with a big smile on their face and not a care in the world. However, it is still important that your work isn't the corporate equivalent of a Debbie Downer. Take steps to neutralize a negative environment by reminding managers and others in charge to remain positive, even in the face of adversity, and to model the types of behavior that they hope to see from their direct reports.
Solicit feedback:
Perhaps your mom used to tell you that if you don't have anything nice to say, don't say anything at all, but when it comes to keeping employees happy, sometimes you must allow them to vent. Giving workers permission to vent their problems not only helps them to unload their stress but can also give you valuable insight into how your company truly works. These sessions can be done in person or via an anonymous online platform if you believe that may be more helpful. These venting sessions can become an important tool to not only tackle issues but develop strategies to improve your business and keep employees engaged and happy.
Boosting morale can help engage your staff and produce better results with higher employee retention. Human resources are looked to for this. Abel HR's team of experts can help. To learn more call 800-400-1968 or email info@abelhr.com.