How to Work in an Office During a Pandemic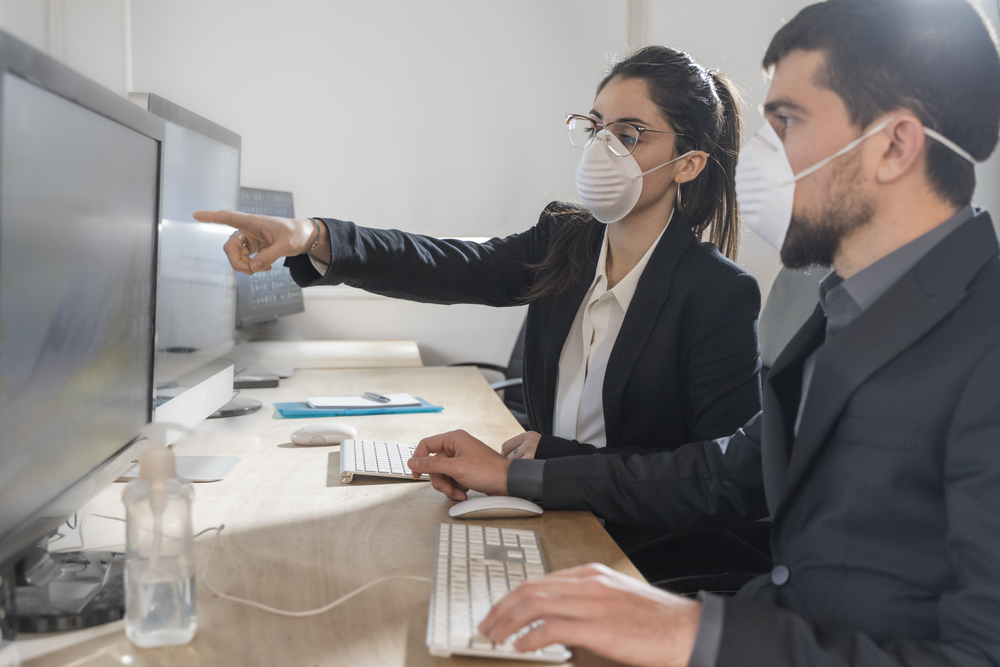 With the COVID-19 pandemic wreaking havoc on the economy, entrepreneurs and employees try to keep businesses afloat. The stress, anxiety, and uncertainty of the days ahead are putting too much pressure on every working professional worldwide. Working in your cubicle every day has become an added challenge on top of your strenuous office chores.
But there is an easy workaround to prevent a decrease in productivity and motivation. By doing a routine before and during work, you can enjoy hustling in an office during a pandemic. Here are six simple ways that should get you by every day at the office:
Start with a strong morning at home
There are two kinds of people: Those who are excited to wake up and go to work in the morning and those who aren't. Whether you're the former or the latter, you can start your morning strong by doing simple tweaks in your routine. And if you happen to be the latter, maybe these simple ways can turn your mood around:
Stretch out your legs, arms, shoulders, and neck the moment you wake up. You can do this while still lying down on the bed or floor. This eases your muscles and any tension from the night before.
Meditate for at least a minute by sitting on the floor and just clearing your mind of any bad thoughts. Increase the number of minutes daily, depending on your comfort and satisfaction.
Make your bed. By making your bed, you've already accomplished the first task of the day. By achieving the little tasks, you'll likely achieve the bigger ones as well.
Eat a healthy breakfast to enhance your energy and focus early on.
Know your priorities for the day so you won't forget the essential tasks. Check your to-do list and rank the items according to priority.
Break out a sweat if you can to release those endorphins and improve your mood. Whether it's a 15-minute jog or 30-minute HIIT workout, you'll undeniably feel happy after exercising.
Write out your goals
According to an INC article, a Dominican University professor claims that writing out your goals increases achievement by 42 percent. This is according to a study that involved 267 participants. And there is truth to this.
Writing as opposed to randomly remembering your goals is more effective. This is due to two things. Firstly, writing your goals on a piece of paper means you're providing an "external storage" that you can access anytime. You can keep this paper in your wallet, stick it on your fridge, or post it on your office cubicle.
Regardless of where you keep this "external storage," you always have a hard copy of your list. That way, you can review it in case you forget something.
Secondly, writing your goals has something to do with how our brains store information. Any information that goes through our hippocampus is analyzed. The brain then decides which information gets discarded or stored.
When we write something on a piece of paper, our brains perceive this information as more important. That being said, writing your goals means you'll likely remember them more as it gets stored in our memory.
Stretch often by yourself
Stretching early in the morning brings a myriad of benefits. As mentioned, it relieves the tension from long sleeping positions from the night before. Also, it helps increase blood flow to get your body energized for what's ahead. You can do simple stretching positions for a few minutes after waking up. Here are some easy stretching positions you can try:
Cobra pose. Lay flat on your belly and put both your hands on the floor in line with your shoulders. The tops of your feet should face the floor as well. Arch your back, open up your chest and look up the ceiling.
Child's pose. Keep your toes together while kneeling, keeping your knees hip-width apart. Put your palms on your thighs and slowly stretch them on the floor with your torso until you feel a good stretch on your back. Stay in that position as long as you need to.
Seated forward bend. Sit on the floor with your legs straightened. Try to reach for your heels with both your palms. Push your torso forward as you grab your heels and feel the stretch on your back and hamstrings.
Wear a mask
This tip is a no-brainer. But since many people hear this often, they sometimes neglect its importance. While many companies shift to remote work, some industries make it impossible to do everything remotely. And this is why working in an office is the only option.
To keep yourself safe from contracting the virus, always wear a mask. Keep your mask on at all times, even when you're alone sitting on your office chair. Wearing a mask in the office also ensures that your work environment is a safe place to be in five to seven days a week.
Get a standing desk
Sitting on a chair for hours could take its toll on your lower back. And this is why many experts recommend getting a standing desk instead, also known as a sit-stand or stand-up desk.
A standing desk is a desk that you can work on while standing. The modern types are adjustable to cater to any height, either manually or digitally. Here are the benefits of getting a standing desk in your office:
It burns more calories than sitting on an office chair all day
It can increase blood flow
Prevents hurting your lower back
Gives you more movement to stretch and walk around the office quickly
Easy to go away from and back to your workstation anytime
Close your laptop (walk away from the PC)
The human mind is trained to stay in an office cubicle and stare at the computer screen for hours. This is because we think that the longer we face the computer, the more productive we are. But this is further from the truth. The more we're staying in long positions at work, the less we're motivated. Plus, this can damage our backs, eyes, and wrists.
That being said, make sure you walk away from your PC for at least a minute every half an hour. Whether it's a trip to the bathroom, getting a soda from the vending machine, or a quick stretch, taking a breather from your computer is good. Not only does this prevent damaging your eyes and wrists. But it also gives you a fresh mind to continue the task at hand.