Is Your Business Ready for a Disaster?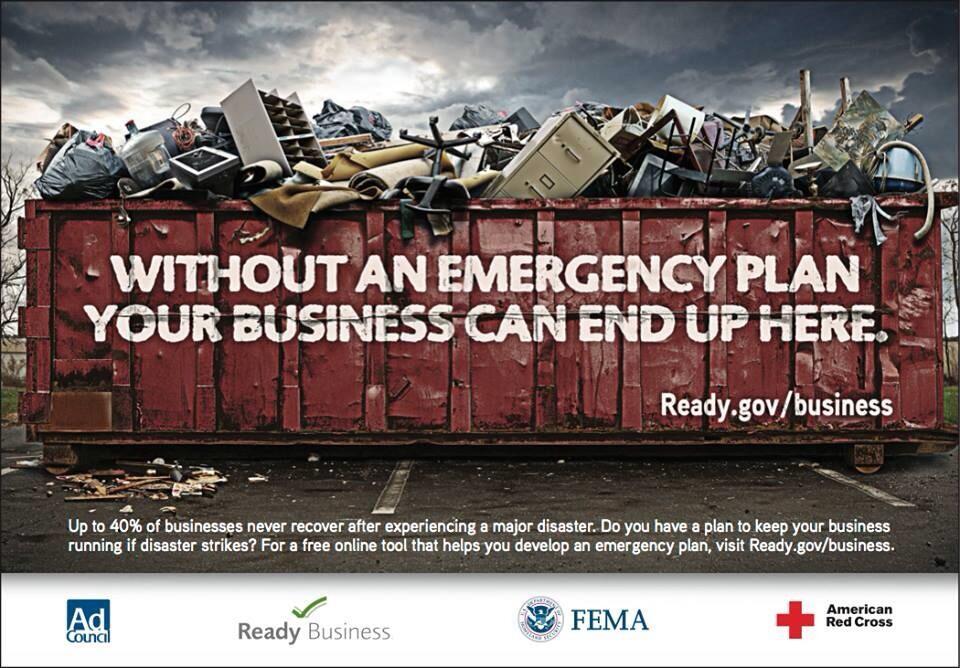 Disasters cost billions of dollars in damages to businesses and homes; 2017 was the costliest year on record and 2018 is adding up quickly. A disaster can be a severe rainstorm, a fire or a crippling snowstorm.
More than $1 billion in damages and losses have been amassed from six weather-related events between January and the beginning of July in 2018, according to the National Oceanic and Atmospheric Administration. Damages from weather-related 16 events totaled more than $306 billion in 2017.
Outside of Mother Nature, a disaster plan should include items to handle medical and health emergencies. Remember how many people were sick with the flu last year? Did you scramble to find coverage for everyone that was sick in your office? Could you have helped prevent the spread of germs with better planning?
FEMA estimates up to 40 percent of businesses do not recover from a disaster. Recovery begins with planning long before a disaster even happens. Do you know what areas of your business can be impacted by disaster and how to manage those risks?
Up to 62 percent of businesses do not have a disaster plan, according to FEMA. September marks National Preparedness Month, which is dedicated to thinking about possible disasters that can occur and what you can do to prevent and plan for them. Since safety planning and notification to employees during weather-related events often falls to human resources, it is wise to develop plans to ensure the health and welfare of all employees.
The month is broken down into four parts, which becomes a roadmap guiding your planning process.
Week 1: Make and Practice Your Plan
Week 2: Learn Life-Saving Skills
Week 3: Check Your Insurance Coverage
Week 4: Save For an Emergency
Make and practice your plan:
There are many things to consider when crafting an emergency preparedness plan, but most center on your ability to disseminate essential information quickly and efficiently. Whether you're making a plan to evacuate in the event of a fire, or crafting a phone tree to let folks know they've got a snow day, figure out they type of communication that works best for your employees and stick with it.
Make it clear in your employee handbook how this information will be communicated, post action plans around the office, and send employees reminder emails when the weather forecast is bad or other preparedness events seem more likely.
Also have a plan to communicate with other stakeholders such as vendors, customers and suppliers.
Employees are the most valuable asset you have—the file cabinets and desks can be replaced, but the people cannot. While your business is suffering after a disaster, your employees are too. Do you have a plan to assist and support your employees after a disaster?
In addition, be sure to practice your disaster plans. All the planning in the world won't do any good if no one knows how the plans will be executed and run through them. Obviously, everybody should routinely do a fire drill, but if you're relying on a phone tree or even a group texting app be sure to test it from time to time to make sure that messages are getting to everyone on your list.
Learn lifesaving skills:
In the event of a disaster, you and your employees may need to help each other until professional help arrives. Simple steps include assessing the safety of the situation, calling 9-1-1, helping or comforting injured colleagues.
Red Cross offers a number of first aid and CPR courses geared towards office workers that take just hours to complete and yet can be the difference between life and death.
Other lifesaving skills the experts recommend include knowing how to install and test fire alarms, how to turn off the gas meter in the event of a disaster, how to navigate the building during a power outage, and prevent electrical fires, among other skills.
Check your insurance coverage:
Floods are the most common and costly natural disaster in the US, yet few households – and businesses – are appropriately covered in the event of significant water damage. Obtaining flood insurance is not that tough – with most plans going into effect 30 days after purchase. Get ahead by checking www.floodsmart.gov to learn more about flood risk in your area and what you can do to address it.
Save for an emergency:
Just like families need to financially prepare for an emergency, business owners need to think ahead as well. In the event of an emergency that could shutter your business for several weeks, do you have enough cash reserves to pay your vendors, suppliers, and employees? How about your landlord? What if you have to shell out money for repairs?
Beyond the financial aspect, there's also the concept of "saving" documents – if a flood strikes your office, how many of your important records will be wiped out? Sidestep this super soggy landmine by making copies of your most important documents and uploading them to an offsite server or cloud.
Useful links:
Abel HR has an on-staff safety manager who can help your business develop an emergency plan as well as assess any risks your business may have. Contact us to ask how at 800-400-1968 or email info@abelhr.com.